Culinary Tours Dates & Pricing
Reserve your Italian Culinary adventure today!
2017 Dates:
Piedmont Culinary tour  – June 16-22
Beautiful Piedmont – with its stunning medieval castles and views of the snow capped Alps, we will explore the richness of this northern region with its fine wines, excellent cheeses, truffles, hazelnuts, chocolate and succulent meats.

Taste of Tuscany  mini tour – June 24- 28
Imagine sunflowers in late June in Tuscany! This Taste of Tuscany is 3 day tour where we'll focus on the foods and wines of this great region.

6 open spots



Tuscany Culinary tour – June 24 – July 1
6 open spots
The Palio of Siena – June 28 – July 3
(6 spots open )
Bologna/Tuscany – Oct 5-14 – 10 days – sold out

Bologna foodie tour available before our Tuscany food and wine culinary adventure


Tuscany – October 14 – 21- 2 spots open

Our full week long culinary adventure focusing on the many wine regions of Tuscany along with the special foods, culture and history. Special focus in the fall on San Giovanni d'Asso white truffles and olive harvests.

2018 Dates:

Tuscany Culinary tour – May 26-June 2, 2018
Piedmont – June 3 – 9, 2018
Tuscany – September 29- October 6, 2018
Tuscany – October 6-13, 2018
Pricing for our Culinary Tours:
Tuscany Week Tours
Price: $3,800 US/person
Piedmont Food and Wine Tour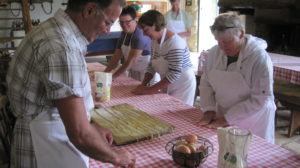 Price: $3,800 US/person
Best of Bologna & Tuscany tour (10 day tour)
Price: $4,900 US/person
(maximum of 10 people)
Taste of Tuscany Mini Tour:
Price:  $2,800/person – inquire about our group discount for our June 24th mini tour

The Palio of Siena Tour:
Price:  $4,500/person
Single supplement applies, these prices are based on double occupancy.  Schedule tour for you and your friends either the full week or a mini tour! You only need 10 to make a group.
Reserve your place now in our culinary tours! Need more information? Contact Mary@eccolacucina.com
Read our reviews on Trip Advisor!