Ecco La Cucina culinary vacations is operated by sisters – Gina Stipo and Mary Stipo Potter.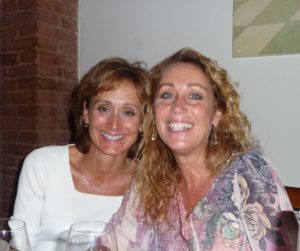 We grew up on the east coast of the US in an Italian American family and when we were young we lived for a time in the northern Italian city of Verona. Italian food was always a big part of our lives, learning about it and cooking. We both did a lot of entertaining when we each started our careers in corporate America and our dream was to go to Italy. When we finally visited Italy as adults, it felt like home. Gina left her corporate managed health care job and attended culinary school in NYC. In 1998 her friends who own a beautiful estate outside Siena in Tuscany asked her to write the estate cookbook and begin a cooking lesson program for their guests staying there. Thus, the birth of –
Ecco La Cucina – which translates to "here's the kitchen" in Italian!
Gina began at that estate and then grew to a kitchen of her own teaching cooking classes and organizing week long culinary adventures in the various regions of Italy. Her enthusiasm for the cuisine and wines of Tuscany inspired her to make Siena the base from which to pursue her culinary passions. As both the author of two regional cookbooks and an aficionado of Siena's historic Palio horse race, Gina offers an insider's entree to the traditions, personality and culture of the region. After living in Tuscany for over 14 years, Gina now lives in Louisville Kentucky and for the past 5 years has had successful authentic Italian restaurant.
In 2004 Mary left her marketing position at a Fortune 500 company to work full time with Gina and to further her knowledge of Italian cuisine and culture. She coordinates the culinary tours from her base in Dallas, Texas and answers your questions about the culinary weeks in Italy. Consult with her on your plans to travel to Tuscany or Italy in general as she can suggest airports, timing and accommodations.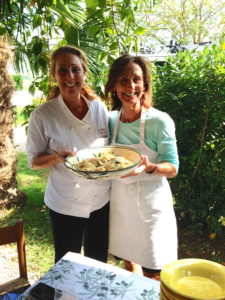 The Italians revel in the joy and community that good food fosters. Gina and Mary love taking people to the various regions of Italy because the people and culture are so closely connected to the foods they eat and the wines they drink. Gina says, "We use the freshest of ingredients to prepare classic regional dishes that are easy to master and delicious to eat. The pairing of our daily menus with local wines makes for an unforgettable dining experience!"
Together Gina and Mary will make your culinary vacation a dream come true!
Click here to register for a culinary adventure!
Mary Stipo Potter
United States, Phone: 972-342-8308
Email: mary@EccoLaCucina.com
Gina Stipo
United States, Phone: 321-412-2011
Italy, Phone: 039 338 774 5487
Email: ginastipo@yahoo.com