Gina's book is a collection of traditional Tuscan cooking, featuring dishes of the Siena area and some of her family's recipes. Chef Gina's books are always filled with information, helpful hints and interesting stories.
How to Order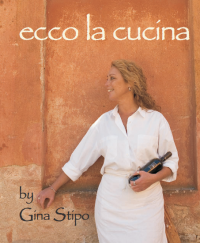 Title: Ecco La Cucina
Author: Gina Stipo
ISBN: 978-1-4243-2757-7
Cost: $25.00 per book
Shipping in the US: $8 for 1 or 2 books, $12.95 3-5 books.
There are 2 ways to get Gina's book! You can order using the order form below and send in your check snail mail. Or pay with PayPal – call or email Mary with all your details, she'll send you a link to pay with a credit card (small service fee applies).
Contact Mary: 972-342-8308 or mary@eccolacucina.com