Tuscany Cooking Vacation Tour
Cooking classes in Tuscany, Italy take on a new meaning with our immersion culinary tour and cooking vacation. If your dream is to live like a local and avoid tourists crowds, then Ecco La Cucina is the right culinary week for you!
This week long Culinary Tour in Tuscany is more than just cooking classes in Tuscany.  Our week includes winery visits to renowned wineries to sample their award winning wines, hands-on cooking lessons followed by either lunch or dinner. Local wines of Tuscany's famous regions are featured and pair perfectly with the authentic dishes. During our culinary tour we will explore several of the Tuscany wine regions, each with its own features and tastes from Chianti Classico, Brunello di Montalcino to Vino Nobile di Montepulciano.
To gain further understanding of Italian food and wines we will be taking day or evening excursions into the surrounding countryside. We'll visit an artisan goat cheese or pecorino cheese farm and a Cinta Senese pig farm and taste the products they produce. Our winery visits will include tastings and you'll gain a good knowledge and appreciation of the sangiovese grape – the basis of
the Chianti, Brunello di Montalcino and Vino Nobile wines! Our local trips can include a saffron farm near San Gimignano, a truffle hunt for the famous white truffle of Tuscany or a visit to an olive press – all of these day trips remain flexible to take advantage of seasonal activities and so best expose you to all the best Tuscany has to offer.   We visit the largest weekly market of the region one morning in Siena which is filled with colorful stalls – fruits, vegetables, salami, porchetta, seafoods, cheeses and textiles.  We visit some of the famous hill towns of Tuscany and have an expert tour guide in Siena to share the history and open our eyes to this beautiful medieval city.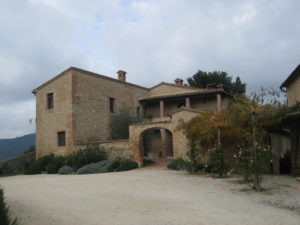 We'll spend the week on a beautiful estate just a short drive from Siena where your private accommodations are provided in a carefully restored 18th Century villa and farmhouse. Many of the original Tuscan architectural features have been maintained with chestnut beamed ceilings, terra cotta tiled floors and open fireplaces. Use of the original wood burning bread ovens, dining outdoors and swimming pools are all a part of our lovely surroundings. The estate is beautifully landscaped with gardens of lavender, herbs and flowers, as well as olive groves and cypress lined lanes for walks in the woods.
Overview and Highlights
Three hands-on cooking sessions followed by lunch or dinner paired with regional wines
Wine education and tastings of the major wine regions of Tuscany
Breakfast each morning prepared by our chef
Lunches and Dinners at local Tuscan restaurants
Regional specialties highlighted, visits to famous vineyards with wine tastings of award winning wines; visit to Cinta Senese and artisanal goat cheese or pecorino farm with tasting; olive oil tasting and visit to press during harvest, visit to saffron farm or truffle hunt during the fall weather permitting.
Visits to Siena, San Gimignano, Montalcino, and renowned wine estates in Chianti.
6 – 12 people maximum per Tour
"This was the best culinary week I have ever been on – and I've done others in Italy and in France. Gina's insider's view gave us information not only on the food but of the culture and history of the Tuscans."