At the Italian Table – True and authentic Italian dining in the Crescent Hill neighborhood.  
Whether you've been to Italy and long to recreate the beauty and style of your dining experience there, or you dream of Italy and would love to eat like an Italian for an evening, or you are looking for a hands-on cooking class that will teach you to cook like an Italian, At the Italian Table is a new venture on Frankfort Ave that is Tutto Italiano! – everything Italian.
Cooking classes are offered each Tuesday  evening from 6:30-9:30; following the hands-on classes, we will enjoy the dishes we've made together at the big Italian chestnut table.
At the Italian Table serves chef's table dinners at a communal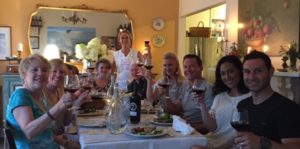 table for 10, available by reservation only.  The dinner menu features local and seasonal ingredients, as well as many specialty food items brought from Italy.  Dinners are on Thursday, Friday and Saturday nights at 7p.m.  Bring a group or come and make new friends, call today for your spot at the Italian table!
The owner, Chef Gina Stipo, has recently relocated to Louisville after living in Siena, Italy, for 13 years, where she ran a cooking school and conducted food and wine tours.  Gina chose Louisville out of a love for its sense of community, beautiful neighborhoods, and locally owned businesses and restaurants.  She is excited to share true authentic Italian cuisine with you!
Hold your next event At the Italian Table!
 

Call for information. Visit our Website: AtTheItalianTable.com
502-883-0211 or 321-412-2011
Member Frankfort Avenue Business Association (FABA) and Crescent Hill Community Association
We look forward to seeing you at our Italian table soon!
Past menus from Gina's dinners