Tuscany has so much to offer through its foods and wines! If you can spend only a short time in Tuscany, join us for our Taste of Tuscany – a short, 4 day culinary tour. We'll help you explore Tuscany's culinary heritage and some of its traditions. During our shorter food and wine tour we include much of the deeply rooted culture of Tuscany with a hands-on cooking class, food and wine tours to a nearby hill town that will include a visit to a winery and local food producer of cheese, all lunch/dinners at local trattorie and a guided visit to Siena one evening.
You'll gain an understanding of the Italian culture further through its foods and wines with our excursions to renowned wineries, hill towns and the surrounding countryside. Lunches and dinners in the area hill towns offer spectacular views with delicious meals of traditional, seasonal ingredients paired with local wines. The wines of Tuscany boasts some of the best in Italy – Chianti Classico, Brunello di Montalcino and Vino Nobile di Montepulciano all of which we'll be learning about and tasting. Day trips remain flexible to take advantage of seasonal activities and so best expose you to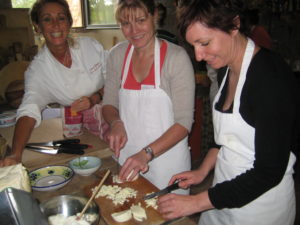 all the best Tuscany has to offer. They can include a visit to a family owned pecorino cheese farm or a Cinta Senese pig farm and taste their products, a trip to the famous medieval hill town of Montepulciano to taste the Vino Nobile and a saffron farm in San Gimignano, wine tasting in Chianti, with visits to cellars, castles and estates.
Accommodations are provided during this tour on a beautiful estate just a short drive from Siena in a carefully restored 18th Century farmhouse.
Reserve your spot now!
We are not planning to offer the shorter week in 2020. If you have a group of 6-10, please contact Mary for timing available.

Overview and Highlights
Four days all inclusive tour
All meals during the tour -breakfast, lunches and dinners paired with wines (unlimited)
One hands-on cooking lesson preparing a four course lunch with regional wines
Wine tour day in the Chianti Classico (or other famous region) to include tastings
4 nights private accommodations in restored Tuscan farmhouse
Regional seasonal specialties highlighted: visits to vineyards with wine tastings; visit to Cinta Senese or pecorino cheese farms with tasting; olive oil tasting and visit to press during harvest, visit to saffron farm; truffle hunting during the fall.
Visits to area hill towns – Siena, San Gimignano or Montepulciano, and renowned wine estates in Chianti.
All inclusive price: $3,400/person