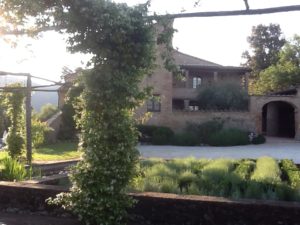 During the week long and mini culinary tours guests stay on a lovely estate in the rolling hills of Tuscany. Accommodations are in an 18th century villa and farmhouses, which have been carefully restored to retain many of the original Tuscan architectural features. Surrounded by groves of olive trees and beautiful gardens landscaped with lavender, roses and herbs, the estate is a comfortable setting for you to enjoy. The estate is an inspiration for photo buffs and artists alike with its amazing views and Tuscan architecture. Complete with hiking trails and swimming pools, it's a lovely place to return after a day touring the Tuscan countryside or in the kitchen.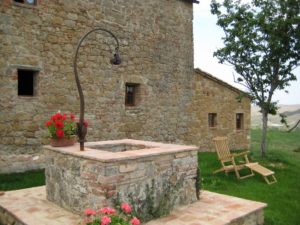 If you are looking for accommodations while in the area to participate in a single day cooking class, Mary can help you find convenient B&Bs, hotels or villa rental through Go Italy Homes.
"Go Italy Homes" is an Italian vacation home rental company offering restored villas, country houses and apartments in rural Tuscany. Many of the homes and small B&Bs are located in the Tuscan countryside affording you a convenient home base in which to take site seeing day trips to the quaint hilltop towns or enjoy the peaceful rolling hills and vineyards. Also, Go Italy Homes offers houses and apartments in Florence, the Veneto, Amalfi Coast, near Naples and Liguria (Italian Riviera).
For assistance with accommodations while in Italy contact Mary Potter at mary@GoItalyHomes.com or visit the web site www.goitalyhomes.com.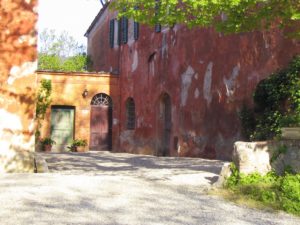 What do guests say about Mary &
Go Italy Homes?
"I can't THANK YOU enough for all that you have done for us with our Italy trip plans! You are wonderful! You have made it all
so easy and allowed me to plan it out while providing special insights on our house and the area! Grazie! We loved every minute of our vacation. Thank you!"
"Thank you to Mary for all the help she gave us in planning our trip, it was amazi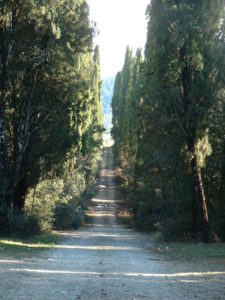 ng! We loved Giulio in Roma! But the highlight was cooking with Gina, it was so special and I learned so much. I can't wait to get into the kitchen, we're planning a big dinner for friends."
"Jim and I arrived home yesterday afternoon and are still walking on cloud 9 thinking about our trip to Italy! The cooking class with your fabulous sister was absolutely remarkable – fun, informative – just great. I think we saw more in one week than most people do in years – or ever! Steven, Jamie and Jeff were wonderful "classmates" and I know we'll keep in touch with each other."
"I just wanted to let you know we appreciated all the information you gave us ahead of time and that we had a ball!!! Wish you had been there to enjoy the wonderful weather, food and wine."