"Your class was the best thing we did on vacation and I wish I was back there cooking with you in that wonderful kitchen!" T.E. Atlanta GA
"We recreated the Tuscan menu for our friends and they loved everything, especially the biscotti with the vino santo. I had the best time cooking with you, thank you again and I hope you'll come see us when you're in Seattle." J.K. Seattle, WA
"Thank you to Mary for all the help she gave us in planning our trip, it was amazing! We loved Giulio in Roma! But the highlight was cooking with Gina, it was so special and I learned so much. I can't wait to get into the kitchen, we're planning a big dinner for friends." C.K., Boston, MA
"Dear Mary and Gina,
There are few things in life that live up to all of your expectations and hopes – your trip was one of them!  Thank you for showing me the heart of Tuscany.  I learned so much about the people, the food, the culture and of course the wine. You were so well organized, the Villa was lovely and the entire week was delicious!  I am already saving my euros for a trip with you to Piedmont.  Well done Ladies and thank you."  K.M., Louisville, KY
"Dear Gina and Mary,
I want to thank you both for a wonderful couple of days.  I will always look so fondly on my time spent with you at the mill. You have changed the way I think about preparing food and have inspired me to cook fresher and more creatively.
You guys were great.  I'm so glad I got to meet you too, Mary.  I hope your next week of students was fun for you." KT, Nashville, TN
"This was the best culinary week I have ever been on – and I've done others in Italy and in France. Gina's insider's view gave us information not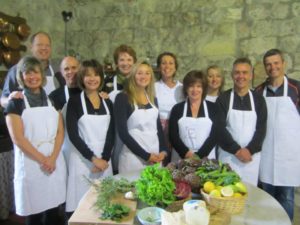 only on the food but of the culture and history of the Tuscans." N.N., Dallas, TX
"S. and I have been home a couple weeks now, and we continue to say to friends and family that our day with you was the highlight of our trip. We really had such a wonderful time – and we learned a lot too! I made a strawberry crostata last week, and it was delicious. A bit runny due to the fresh strawberries, but hey – what's wrong with mopping up extra gooey strawberry juice with nice hunks of delicious sweet crust? Nothing! S. has perfected his fresh pasta, thanks to your "two fingers" mixing method. He made fresh tagliatelle last Sunday, then he made the sausage and white wine/cream sauce recipe from your book. It was delicious. We're already planning our next trip!" J.S., San Francisco, CA 
It is difficult to find adequate words to express our gratitude for all you did to make our cooking school/tour a week we will never forget.  We are so full and running over with memories of experiences that were beyond any we anticipated. Your enthusium and knowledge of just about everything we did and saw made our week great……One final comment, we All agreed, the money spent on a week with you was some of the best money we've ever spent!                                           Linda W. Austin TX
"The whole week was so interesting and great. Every day we woke up and said 'yesterday was my favorite day', how will they top that?! And then by the end of that day we were saying this was our favorite day!" T.Q., Poquoson, VA
"It was an incredible learning experience. It changed my life and the way I cook!" M.O. Grosse Pointe, MI
"This was the best cooking class I've taken… the small class size really gave everyone ample opportunity to cook and master techniques." K.O. San Diego, CA
"I just want to thank you for the lovely day cooking with you.  It was a lovely stop in our trip and your demeanor and the location were so relaxing we could have sat there all day.  Hands down we all thought it was the best meal we had in Italy!!"                   Joy B., San Diego CA