Four days – "Taste of Tuscany" Tour
This is a perfect tour for those who want to experience a cooking vacation in Tuscany with its wine and food tours and still have time to visit the famous cities of Rome, Florence and Venice! Make this tour part of your Italy adventure! For June 2017 we have extended the days and added more things to see and do. Our all inclusive 4 day tour includes 5 nights accommodation, tours and excursions, cooking class, transportation to all our excursions and all meals (lunch and dinner paired with regions wines).

A brief overview of our short Food and Wine tour in Tuscany:
Arrival, Saturday
Arrival at estate in Tuscany.  Check-in with time to unpack and settle in. The evening will be a welcome aperitivo on the terrace followed by dinner to get acquainted and review our itinerary.
Day One, Sunday 
After breakfast we begin our adventure with a wine tour in the famous Chianti Classico region. We'll learn about the changes in the wines produced in this region over the years, the famous black rooster and the differences in DOCG and DOC wines. Our wine tour includes 2 wineries with tastings, a garden tour at a famous local castle and lunch. Our three course lunch will be at a family owned trattoria with beautiful views of the Chianti Classico vineyards paired with wines from this region.
Day Two, Monday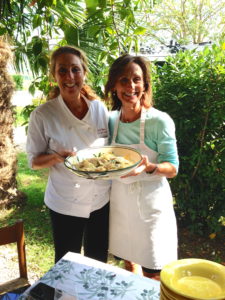 Today we have Gina's cooking class at the 900 year old Mulino kitchen in a 13th century restored grain mill at 10 a.m. This class will be focused on typical Tuscan foods and include cultural insights of what makes this cuisine so special. Our seasonal menu or the four course meal will be made with the freshest local ingredients. We'll learn to make fresh pasta and you will have an opportunity to practice this fine art! Our lunch will be enjoyed in the garden under the pergola and each course is paired with wines from one of the famous wine regions of Tuscany.
After a few hours to relax and soak in the beauty of the estate, we'll depart for our evening excursion to Siena, a UNESCO World Heritage site.  We will have a guided walking tour of this famous Medieval city where you'll visit the Duomo, learn of the Palio horse race and visit some of the contrade (neighborhoods) of Siena. Dinner will follow at one of our favorite restaurants in the middle of Siena at the base of one of the ancient towers.
Day Three, Tuesday 
Today we will visit a pecorino cheese farm in the Val d'Orcia. This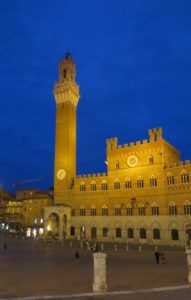 historical family farm produces many different types of pecorino cheese, famous in Tuscany and we'll have a demonstration of its making and a guided tasting. After the tasting and a chance to purchase the delicious cheeses, we venture to the famed town of Montepulciano known for its Vino Nobile. We will tour a historical winery with its aging cellars underneath a palazzo and taste the Vino Nobile wines. Lunch will be at a winery and then we will have time to walk the village and shop.
We will return to our villa and this evening and have a short hands on cooking class learning the technique of risotto. Dinner will follow and afterwards we will have the evening to enjoy the terrace views with a glass of wine.
Day Four, Wednesday

The weekly market of Siena is the largest open air market in Tuscany and is filled with stalls selling everything from clothes, shoes, scarves, table linens, as well as food, a fun shopping opportunity!   In the afternoon we'll visit the Manhattan of Tuscany – the beautiful medieval village of San Gimignano with its ancient towers. Along with the rich history there is another great shopping opportunity – from alabaster and ceramics to leather and linens. And of course the best gelato in Tuscany…maybe the world!
Day Five,Thursday
You can continue your Italian adventure after breakfast taking with you wonderful memories!